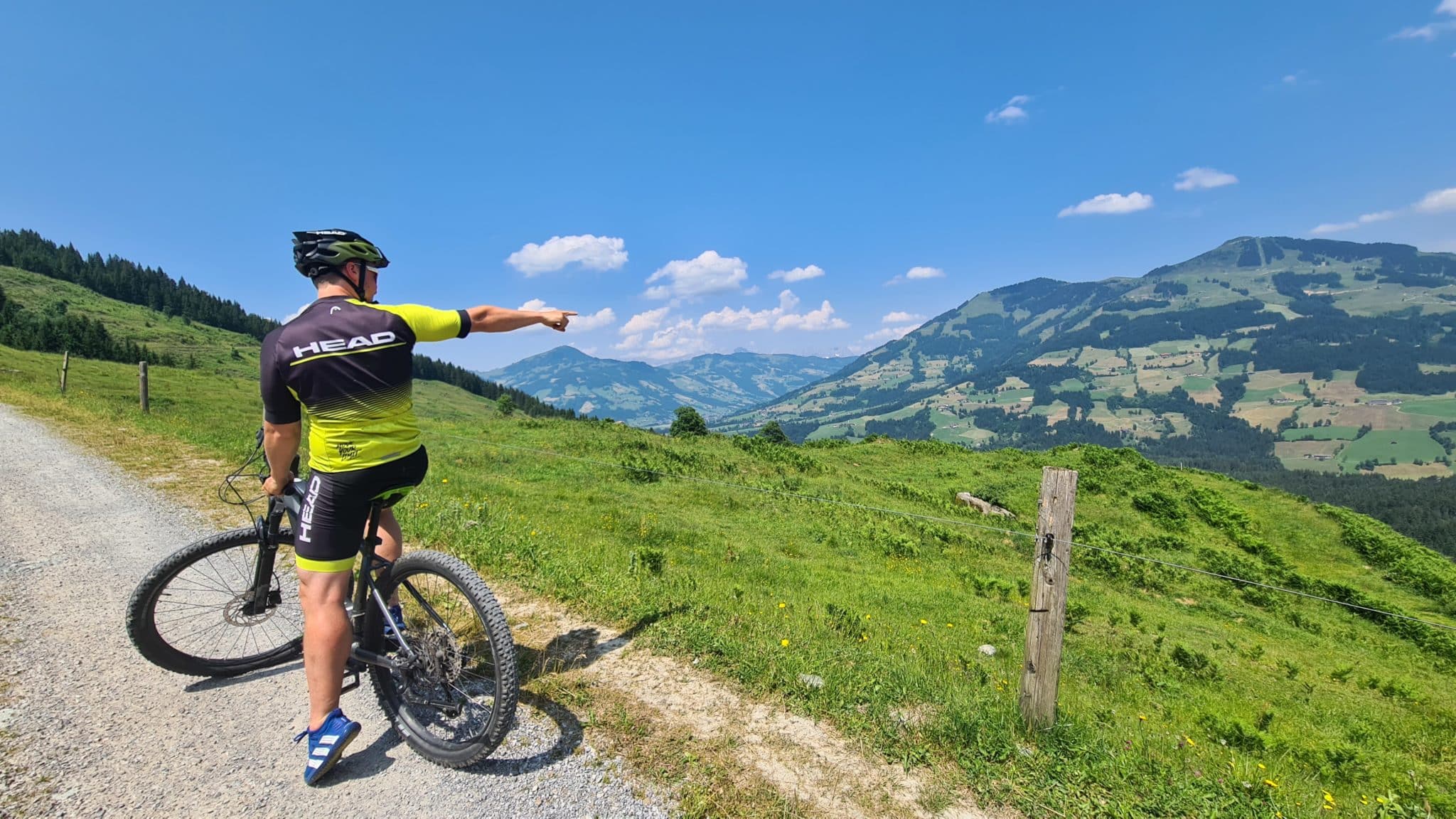 The Windautal area in Westendorf is also known as the 'jewel of nature', and this tour shows why. The tour is doable for young and old, varied from beginner to advanced and with or without an e-mountain bike (although with, is a bit easier). The tour crosses streams, leads past ancient oaks and through alpine meadows. Once at the top, the views over the valleys are spectacular. But the best is yet to come: a relaxing (or exciting, depending on how you use your breaks) descent down a tarmac road past quietly grazing cows back to town. The route is briefly described in this blog, along with experiences, experiences and how the e-bike takes you up the mountain!
Info
Duration: 3 hours
Length: 24,3 km
Altitude: 790 m
Level: medium
Specials
Start the ride at Summersports Westendorf, head south and follow the signs to Windautal. The path passes through Westendorf past identical Tyrolean houses. Continue until you reach the Pure Golf Resort, where you turn right for a thrilling descent to Lendwirt on well-maintained asphalt. You'll notice because of the wide mountain bike tyres that have quite a bit of tread that you won't lose grip in the wide turns, allowing you to go down the mountain at a fast pace and feeling safe.
Windautal to Kienzling Alm
From Windautal, the trail begins after crossing the bridge. This part of the route takes you on a gravel road along the river Windauer Ache. Along this river you cycle through lush meadows, forests and offers a beautiful view of the surrounding alpine landscape. Once at the crossing, the styles climb begins on the way to the Kienzling Alm. Prepare for some challenging inclines, but the effort is rewarded with stunning panoramic views. On this section, we put the e-mountain bikes on Turbo mode. The Bosch motor makes you feel like you're getting a fine push. As you approach Kienzling, you reach the top of this stage, which offers a fantastic vantage point to admire the alpine peaks. Even with mode Turbo taken by us, we notice the considerable effort we made to get to the top. Take a break, rest your legs and enjoy the mountain panorama before continuing on.
From the top to the bottom
The next stage takes you from Kienzling to the Windautal valley, descending through a mix of alpine meadows and forest trails. This stage offers an exciting ride, with smooth descents on gravel and the second part on asphalt. Stay focused on the trail as you navigate the twists and turns. The rugged grip of the tyres means you won't lose grip on the gravel either. Once you reach Windautal, take a moment to relax and look back on your exciting descent. You can do this at the cosy and cosy Lendwirt restaurant at the end of the stage while enjoying a delicious snack and drink.