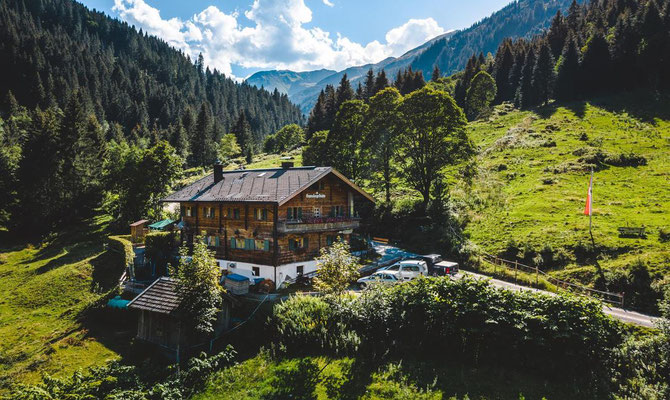 Westendorf is the perfect place for an active summer holiday. Countless hiking and cycling trails through the beautiful Tyrolean countryside are waiting to be discovered. In this blog we zoom in on a tour through the Windautal to the Gamskogelhutte that is perfect for families!
Info
Duration: 2 hours
Length: 30 km
Altitude: 590 m
Level: easy
Website: Gamskogelhutte
Specials
The E-MTB rental of Summersports Westendorf is the starting point of this route, right in the centre of Westendorf. Soon the cosy terraces give way to the widest views. The tour continues towards the breathtaking Windautal. Beautiful views, forests, meadows, waterfalls and the Windauer river provide plenty of variety on this tour.
As you can see in the Komoot route planner below, the route is characterised by slight inclinations. Most of it is false flat with a few climbs at the end, which are child's play with the E-MTB's powerful Bosch engine. In addition, the roads are asphalted, which makes cycling very pleasant. All in all, this makes this tour very suitable for the beginning mountainbiker and families with (young) children.
After about 35 minutes of cycling your efforts will be rewarded with a stop at the Gamskogelhutte. With the beautiful view and the Tyrolean hospitality this hut breathes the authentic Austrian atmosphere.
While the children enjoy themselves in the playground, on the trampoline or in the cold creek, you can enjoy Tyrolean delicacies and cold drinks on the terrace. Highly recommended is the home-made Schnitzel! Furthermore, this hut offers the possibility to charge the E-MTB during your visit. This tour really has everything for a carefree day in the mountains!